What's the Robot surgery?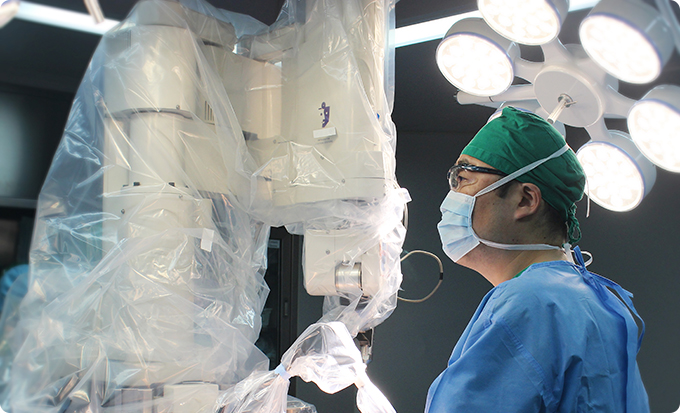 Robot Surgical System allows surgeons to pre-operatively plan their surgery in a 3-D virtual space and then execute the surgery exactly as planned. The System includes two components; ORTHODOC, a computer workstation equipped with software for 3-D preoperative surgical planning, and the ROBODOC, Surgical Assistant, a computer-controlled surgical robot utilized for precise cavity and surface preparation for hip arthroplasty and knee arthroplasty surgeries.

It provides exact implementation of exact pre-surgical plans on non-homogeneous bone tissue thereby extending the capability of the surgeon, and allowing him/her to focus on clinical issues (rather than spend time learning different tools/sizes) and is the base platform for a wide variety of exciting future applications.
Advantages
- Optimized Preoperative Planning
- Complete Removal of Fibrous Membrane
- Complete Removal of Necrotic Bone
- Significant reduction of OR-time in Revision cases
- Risk of fractures minimized
- Good postoperative stability in cementless cases
- Good bone quality at interface
Robot surgery processing
* Pre-operative Process

* Intra-operative Process

Comparison manual vs Robot surgery
Surgical procedure done conventionally require the use of a large combination of tools and require the surgeon to utilize" both hands" as well as "3 senses" in addition to "concentration", hand-eye coordination becomes a vital skill-set. Robotic technology eliminates the need to use these 3 senses which are sight perception, touch, and sound perception.
Comparison manual vs Robot surgery

| Using ten fingers with multiple tools | Using one finger with one cutter |
| --- | --- |
| | |
The robot assisted total joint replacement
* Robot assisted TKA
Just like the robot assisted THA, robot assisted TKA also uses the 3D images for preoperative planning. With these images, the patients' knee deformation severity and mechanical axis can be calculated exactly. The preoperative planning emphasizes on passing the mechanical axis through the knee center. In conventional TKA, the mechanical axis was calculated only in AP films. But in robot assisted TKA, the mechanical axis and knee center can be calculated not only in AP planes but in lateral planes also, thus being more accurate.
The robot assisted total joint replacement Robot assisted TKA
Robot assisted TKA
Using the computer,
the AP and iateral mechanical axis coincides
Actual film of a patient who received robot assisted TKA.
The mechanical axis of AP and lateral plane coincides exactly
* Robot assisted THA
The main difference between the conventional THA and robot assisted THA is that, unlike conventional THA, there is a preoperative planning stage using a CT scan and a computer (Orthodoc). We obtain patients' anatomic bone structure information through the CT scan and the CT scans are reconstructed in 3 dimensions with the Orthodoc.
Using the 3D images, not only the appropriate sized implant can be chosen, but also the implant can be aligned exactly in the center of the femoral canal according to each patient's anatomic variance. This is very important for THA longevity and harmony with patient's bone. Then, using this computer assisted preoperative planning, the robot finishes the operation with its precise and accurate cutting, coinciding with the preoperative planning.
The robot assisted total joint replacement Robot assisted TKA
Robot assisted THA
3D preoperative planning with computer
Actual film of a patient who received robot assisted THA.
The implant is aligned in the true center of the patient`s bone.